What is My Home Worth?
Receive a custom evaluation for your home, including comparisons to other homes that have recently sold or are on the market. This guarantees you receive the most accurate information available. To find out what your home is worth, fill out the information below:
I want to brag about being #1 here. The Garner Team of Coldwell Banker ranks YOU #1! When you're looking for a partner to put your priorities ahead of all others, the Garner Team will help you promote, market and negotiate the complexities of selling your home, you've come to the right place. The experience, dedication and strong communication you'll receive here will help ensure the successful and profitable sale of your home:
1. Global Reach Advantage - Working with the largest Brokerage in the World connects you with:
91,000 Affiliated sales professionals around the globe
working from 3,000 offices
in 50 countries
2. Regional Dominance Advantage - Duff Rubin, President of our Company is striving to keep Coldwell Banker pushing forward.
2,500 Affiliated sales professionals
working in 30 offices throughout the region
closing more than 14,300 transaction sides
totaling $6.03 BILLION in sales volume
3. Local Expertise Advantage - Denise Garner Team of Coldwell Banker Residential Brokerage and I are all professional Realtors with local roots and a vested interest in the local area.
We have successfully closed nearly 400

 

Local transactions

Totaling ~

$150 MILLION

in sales volume

I have conducted over 15,000 successful negotiations in my career
4. Internet Advertising Advantage - +700 partner websites! Since the lion's share of home buyers starts their search on the internet, top placement on search engines is essential. You'll gain access to placement on Google, Bing, and other websites. This will maximize your exposure and bring a large number of potential buyers to view information about your home.
5. Email Campaigns Advantage - It's important to "work the network." We can work together to identify the right people to target your home-and get in touch with them by email to drive excitement and interest.
6. Personal Touch Advantage -  Of course, technology alone won't always sell your client's home. Face-to-face interaction, outstanding reputation and experience provides key advantages to support your real estate business.  When you affiliate with the Garner Team of Coldwell Banker Residential Brokerage YOU ALSO GET ME!  I continue to work side by side with Denise personally overseeing the business transacted.   The Agents and Staff work closely with me. The details will be handled with care and constant communication, to ensure the best possible working relationship.
CLICK on the Seller's Guide for your free download. 
The Garner Team has a property-focused marketing strategy that has proven to sell homes faster and for a higher price than our competition.  Let us put our 30 point marketing strategy to work for you!
When you list with us you get:
* Your home marketed 24 hours a day, 7 days a week, 365 days per year on 700+ websites.
* Proven marketing strategies using today's technology to attract the buyer down the street or from across the world.
* Professional, high quality photos, virtual tour, and brochures.
* Master Certified Negotiation Expert (MCNE) to negotiate every point of your transaction.
* Accredited Staging Professional (ASP) to assist in staging your home for sale.
* Expert knowledge of the contract terms, addenda and disclosures needed to protect your interests.
* Direct and open communication about the progress.
* Customer service explaining the process every step of the way to settlement day.
* Customer for Life service and support.
* And much, much more.
Call or Text 443-400-7675 for a FREE consultation to see how the Garner Team can assist with your real estate needs.
The Impact Staging Your Home Has on Sales Price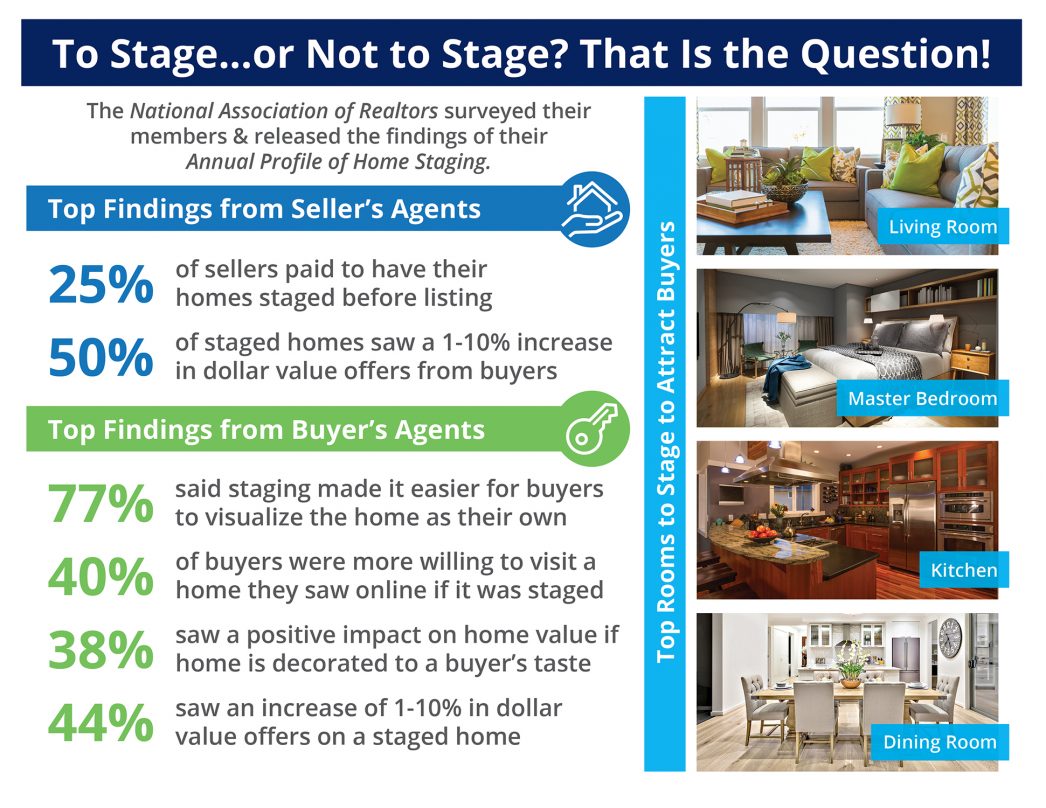 Some Highlights:
The National Association of Realtors surveyed their members & released the findings of their Annual Profile of Home Staging.
50% of staged homes saw a 1-10% increase in dollar value offers from buyers.
77% of buyer's agents said staging made it easier for buyers to visualize the home as their own.
The top rooms to stage in order to attract more buyers are the living room, master bedroom, kitchen, and dining room.